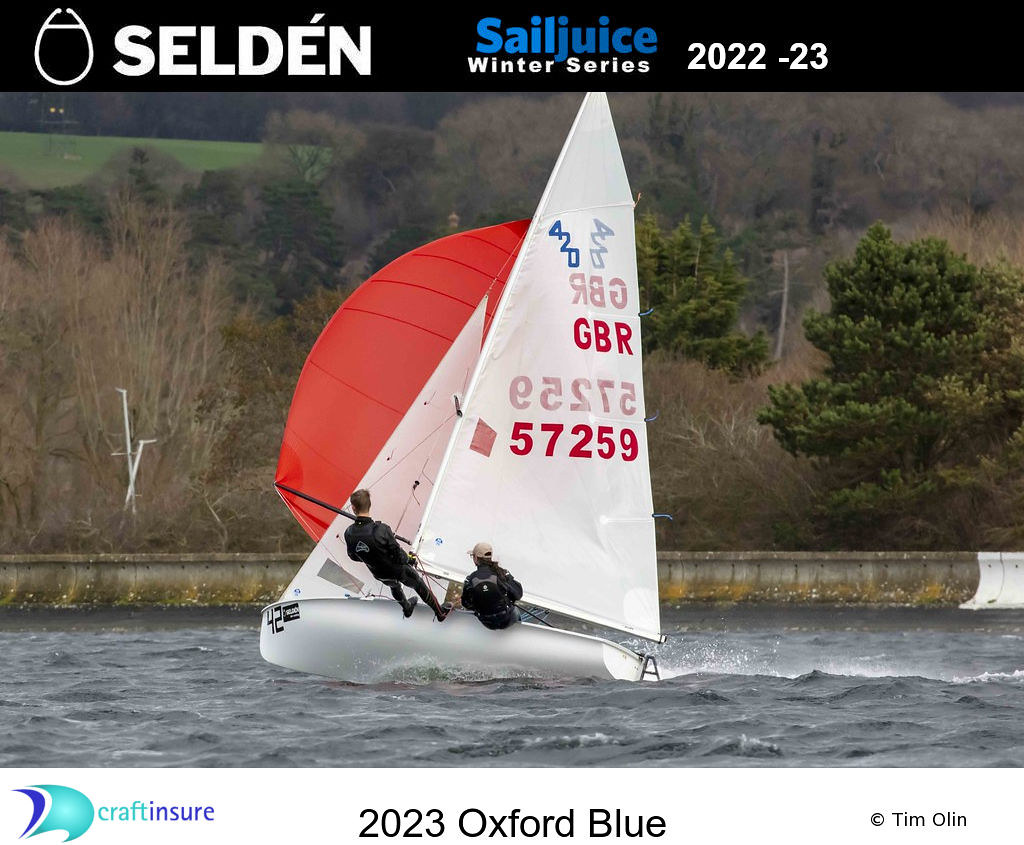 Alice Davis and Oliver Rayner made the most of strong breeze for the final event of the Seldén SailJuice Winter Series, the Oxford Blue...

After a predominantly light airs season for the Seldén SailJuice Winter Series, the Oxford Blue delivered a windy climax to the nine-event competition.

Robust breeze averaging 20 knots with a few bigger gusts, courtesy of Storm Otto, made for an exciting and hectic race track on Farmoor Reservoir on Saturday 18 February. It was perfect weather for Alice Davis and Oliver Rayner (Draycote Water SC), to show what a well-sailed 420 can do in blustery conditions.
These top 420 sailors and 2022 GBR representatives at World Youth Championships blitzed the event. skilfully keeping their 420 at full throttle throughout the day for three straight wins.

It was a good outing for the Hollowell SC team, as Jack Lewis & Morgan Smith raced their 2000 into second place ahead of club mate Arran Holman aboard an RS Aero 7. This made Holman the top finisher at the RS Aero Winter Championships taking place at the event.

In total 85 entries from 37 classes competed at the Oxford Blue, another diverse entry from RS800s and Musto Skiffs to Toppers, with a few more unusual classes such as the Sunfish and Dart 16.
Results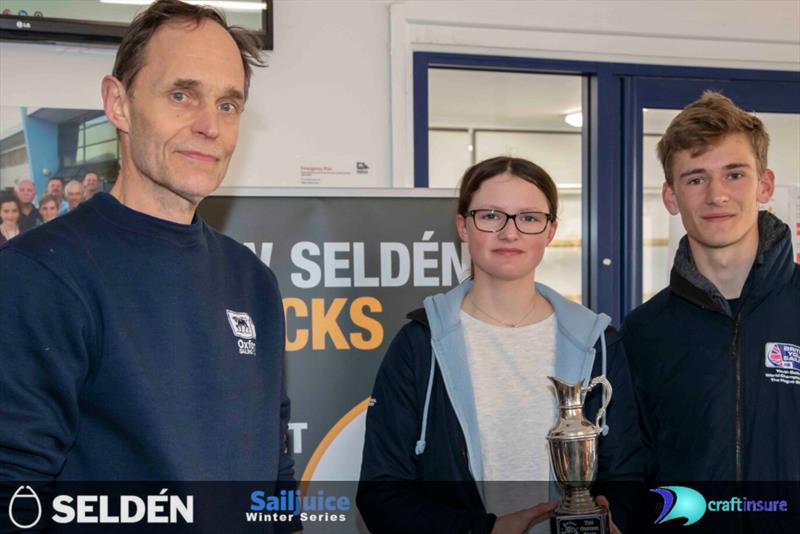 Top speeds
With a good consistent breeze, nearly half the fleet saw sustained speeds in double figures as recorded by the SailRacer GPS trackers.

Ben Schooling (Musto Skiff) was fastest at a sustained 12.61 kts, closely followed by local Carl Tagoe (Contender) 12.48kts and in third the RS200 of Ben Whaley and Lorna Glen recorded an impressive 11.97 kts.
On handicap-adjusted speed, Ben and Lorna were top, followed by Series stalwart Val Millward (Challenger).
Seldén sticker competition winners
RS800 sailors Liz Watton and Chris Williams (Leigh & Lowton SC) were the Seldén sticker winners at the Oxford Blue. The RS800 duo win an R60 ratchet block from the Seldén range, thanks to the photo taken by series photographer Tim Olin.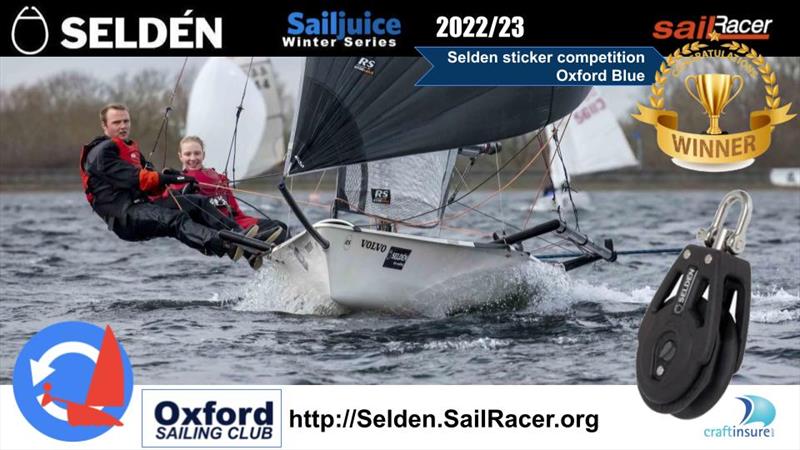 Prizegiving this Saturday, 1015am at the Dinghy Show
The prizegiving for the Seldén SailJuice Winter Series always attracts one of the biggest crowds at the RYA Dinghy & Watersports Show which takes place in Farnborough this weekend. The prizegiving starts at 1015am on the Main Stage, on the Saturday morning of 25 February, soon after doors open for the weekend.


OVERALL RESULTS FROM OXFORD BLUE
Results
THE EVENTS
The following events were in the Seldén SailJuice Winter Series 2022/23:
Fernhurst Books Draycote Dash, Draycote Water Sailing Club

20 & 21 November 2022

Datchet Flyer, Datchet Water Sailing Club

3 & 4 December 2022
Yorkshire Dales Brass Monkey, Yorkshire Dales Sailing Club

27 December 2022

Burghfield Breezer, Burghfield Sailing Club

27 December 2022

Gill Grafham Grand Prix, Grafham Water Sailing Club

2 January 2023

GJW Direct Bloody Mary, Queen Mary Sailing Club

7 January 2023
King George Gallop, King George Sailing Club

21 January 2023

John Merricks Tiger Trophy, Rutland Sailing Club

4 & 5 February 2023
Oxford Blue, Oxford Sailing Club

18 February 2023
Prizegiving at RYA Dinghy Show, Farnborough

25 February 2023

You can find out more about the Series here: www.SailJuiceSeries.com

Photo Credits: Tim Olin
Previous winners of the Seldén Sailjuice Winter Series
2021/22 Roger Gilbert & Ben McGrane (505)
2020/21 Simon Horsfield & Katie Burridge/ Natalie Johnson (2000)
2019/20 Simon Horsfield & Katie Burridge (2000)
2018/19 Simon Horsfield & Katie Burridge (2000)
2017/18 Alistair Goodwin (Laser)
2016/17 Matt Mee & Emma Norris (RS200)
2015/16 Ian Dobson & Andy Tunnicliffe (GP14)
2014/15 Nick Craig & various crews (Merlin Rocket)
2013/14 Michael Sims (Solo)
2012/13 Tom Gillard & Simon Potts (Fireball)
2011/12 Peter Gray & Rachael Rhodes (Scorpion)
2010/11 Andy Peake (Musto Skiff)
2009/10 Olly Turner & Richard Whitworth (Merlin Rocket)

SailJuice.com is the 'how to sail and race faster' website, with hundreds of articles and exclusive interviews with National, World and Olympic Champions. Professional sailing journalist and editor of SailJuice.com, Andy Rice, came up with the concept of the SailJuice Winter Series (originally known as the SailJuice Global Warm-Up) as a way of increasing participation levels in dinghy racing during the off-season in the UK.

SailRacer manages event websites and processes online entry for major National, International, Youth and training events, providing online scoring, analysis and advanced sports presentation including GPS tracking and live video.
Seldén Mast Ltd is the world leader in dinghy spars. More races are won by Seldén Spars than any other brand. Dinghy spars are made using Seldén unique XPS aluminium with CNC cut tapers, automated welding and heat treating resulting in the highest quality and most consistent dinghy spars available. Seldén also produces about 400 carbon masts per year for boats including high performance dinghies and race yachts using state of the art Mandrel Filament Moulding Technology.
Craftinsure aims to make boat insurance as effortless as possible with an easy to navigate website and app which allows you to make changes to your cover quickly and with ease. With 'New for Old' cover at competitive prices, Craftinsure insures over 25,000 boats with excellent customer reviews which you can read on Trustpilot.