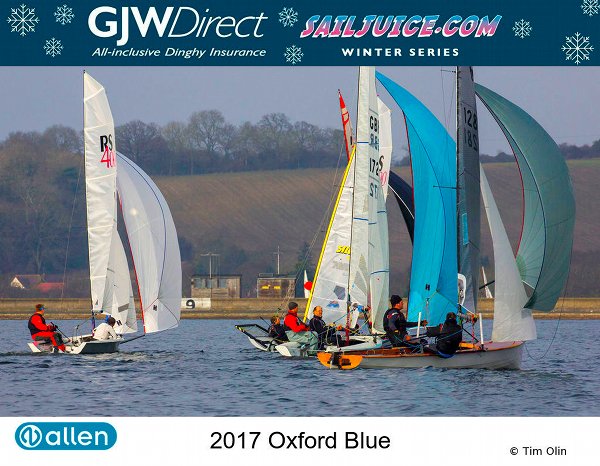 Top Oxford Marks for the Clarks. Russ and Penny Clark sailed their RS400 to victory at last Saturday's Oxford Blue, the final event of the GJW Direct SailJuice Winter Series.
The light airs enabled the husband and wife crew from Stokes Bay to fly their RS400 gennaker on three sides of the square course and they racked up scores of 3,2,3 to beat the 148-boat mixed handicap fleet by a small but convincing margin.
In second place was an Oxford-based K6 keelboat sailed by Michael Trueman and Martin Gibson who finished just a point in front of third-placed Tom JEFFCOATE and Tim HARTLEY sailing a Scorpion.
Results Penny Clark represented Great Britain in the Laser Radial in Beijing 2008, but this winter has been crewing her husband Russ, who used to coach his wife during her Olympic campaign. "It's been great sailing together during the Series," said Penny, "and we've been getting better at learning the RS400 and also this style of racing as we've gone along."

Photos Russ added: "One of the things we've concentrated hard on in these handicap races is staying in control of your own race. The RS400 is slower than some of the other boats on our start line, so you don't want to find yourself being dictated to by the bigger, faster boats. For example the National 18 is enormous and it's a wind-hoover, so you try not to be in the same part of water as them. It's about trying to make sure you're pointing your boat in the right direction as much of the time as possible, because you're not just racing the boats around you, you're racing against the clock and just a few seconds of going slowly can have a massive effect on your results. Putting yourself in a bit of the course where you can tack on the shifts rather than tacking to clear your air is a crucial part of doing well."

Penny said the lighter winds of the 2016/17 season have also been to their benefit, playing to the strengths of the RS400's large sail plan. "We haven't actually done that much hiking during the events this winter," she said.

Behind the winning RS400 the points were very tight, with Matt Mee and Emma Norris's RS200 just missing out on tie-break to Lyons' Blaze to finish fourth overall. Eight different classes made it into the top ten, with only the RS400 and RS200 repeating. However all the top ten came from the first and last of the three starting groups, with the top-finishing boat from the middle group 'B' being the RS Aero 9 sailed by national champion Pete Barton. Perhaps it was the fact that the RS Aero had produced a turnout of 48 boats for what was also serving as the singlehander's Winter Championships. Simply fighting your way clear of your fellow Aeros and other assorted singlehanders such as the Finns and Devoti D-Zeros made it hard for anyone, Barton included, to make an impact on the overall results. It's partly these battles within the bigger battle that make these handicap events interesting on a number of different levels.

The prizegiving for the Oxford Blue will take place at the RYA Suzuki Dinghy Show along with the overall prizegiving for the eighth edition of the GJW Direct SailJuice Winter Series. It takes place at 1030am on Saturday morning 4th March in the Coaching Zone, close to the entrance to the Show.


GJW Direct SailJuice Winter Series photos
Tim Olin has taken 1,200+ fantastic pictures from the Winter Series, now you can buy prints and canvas of your favourite moments. Search by sailor, sail number, class and event.



Videos
Relive all the action from the GJW Direct SailJuice Winter Series with the SailRacer round-up videos.

http://gjw.sailracer.org/eventsites/content.asp?id=45653&eventid=207915&video&uid=20837592




THE EVENTS

The following regattas constituted the GJW Direct SailJuice Winter Series 2016/2017:

Draycote Dash, Draycote Water Sailing Club
Saturday 19 & Sunday 20 November 2016

Datchet Flyer, Datchet Water Sailing Club
Saturday 10 & Sunday 11 December 2016

Brass Monkey, Yorkshire Dales Sailing Club
Tuesday 27 December 2016

Grafham Grand Prix, Grafham Water Sailing Club
Monday 2 January 2017

Bloody Mary, Queen Mary Sailing Club
Saturday 7 January 2017

John Merricks Tiger Trophy, Rutland Sailing Club
Saturday 4 & Sunday 5 February 2017

Oxford Blue, Oxford Sailing Club
Saturday 18 February 2017