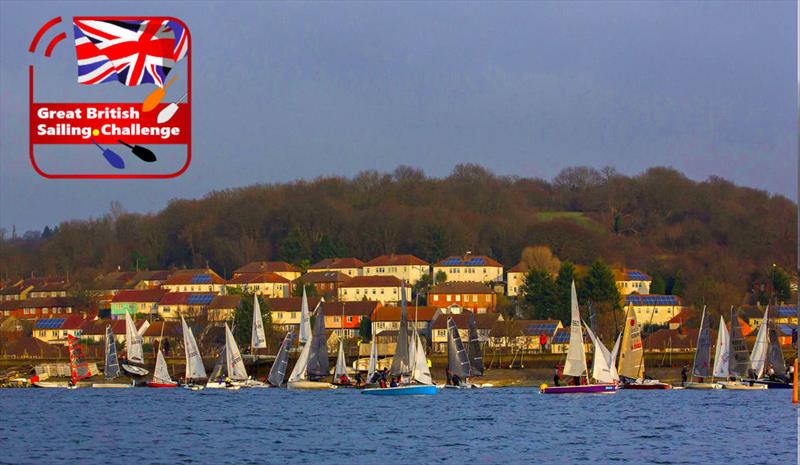 The King George Gallop will now take place on the Sunday only, after the organisers decided the storm-force forecast for Saturday makes racing on the North London reservoir look extremely unlikely.
The March leg of the Great British Sailing Challenge will now consist of three back-to-back races on Sunday 17 March, with the first race set to start at 11am.
Using the latest version of the Great Lakes handicap numbers, a variation of the RYA PY system, along with GPS-based Dynamic Handicapping developed by SailRacer, this event and others in the Challenge aims to create as fair a playing field as possible for a wide range of boats.
Enter Now >>>> Racing for the day will cost £25 for all types of dinghy. Sailors already entered for the original two-day event will receive a reimbursement to bring their entry fee down to £25. All types of monohull dinghy, equal to or faster than a Topper 4.2, are eligible for the Gallop. Current entries range in size and speed from Lasers and Blazes up to the larger and faster boats such as a 49er, RS800 and National 18.
The first edition of the King George Gallop took place in 2018 and was won by Ben Schooling in a Musto Skiff.
To find out more at www.sailingchallenge.org
One of many aims of the GBSC is to encourage boats of similar type to race each other on handicap, and some of the early performers from the winter were rewarded at the prizegiving held at the RYA Dinghy Show earlier this month:
Overall and Fast Symmetric Sam METTAM/Tim SAUNDERS Fireball
Fast Asymmetric Colin/Olly MURRAY Norfolk Punt
Slow Asymmetric Jonny/Sarah MCGOVERN RS200
Slow Symmetric Alistair GOODWIN Laser
Youth Jack LEWIS/Fraser HEMMINGS 420
19-55 Sam METTAM/Tim SAUNDERS Fireball
Master Neil MARSDEN 420/GP14
Generation Game
(open to sailors in singlehanders or crewed boats with 18 years or more age gap)
Gareth Hyland and sons, Eden and Josh, all sailing Blazes from Chase Sailing Club
GBSC Calendar 2018/19
Fernhurst Books Draycote Dash , Draycote Water Sailing Club
17 & 18 November 2018
Datchet Flyer , Datchet Water Sailing Club
8 & 9 December 2018
Brass Monkey , Yorkshire Dales Sailing Club
27 December 2018
John Merricks Tiger Trophy , Rutland Sailing Club
2 & 3 February 2019
Oxford Blue , Oxford Sailing Club
16 February 2019
King George Gallop , King George Sailing Club
16 & 17 March 2019
Weston Grand Slam
20 & 21 April 2019
Derwent Dambuster , Derwent Reservoir Sailing Club
11 & 12 May 2019
Wilsonian River Challenge , Wilsonian Sailing Club
1 & 2 June 2019
Bala Long Distance , Bala Sailing Club
22 & 23 June 2019
Mountbatten Centre , Plymouth
8 to 10 August 2019
Ullswater Ultimate , Ullswater Yacht Club
17 & 18 August 2019
Grand Finals , Rutland Sailing Club
28 & 29 September 2019
How do I get to the Grand Finals?
The Grand Finals of the GBSC are designed to celebrate the best of everything in small-boat racing in Great Britain. So there are many ways to qualify....
Finish in the top 10 of the travellers' series (based on your best three results)
Top qualifiers in a number of boat categories:
Fast Asymmetric
Fast Non-Asymmetric
Slow Asymmetric
Slow Non-Asymmetric
Multihull
Sportsboat
Best Improver
Most attended
Any boat valued at less than £1000
Top qualifiers in a number of age and other categories, for example:
Youth (Under 19)
Master (Over 60)
Female
Two Generations (two people sailing together, minimum age gap of 18 years - could be parent/child but not necessarily)
There will also be a number of 'wild card' invites available based on various criteria.
Hang on, but what even IS the Great British Sailing Challenge?
It's a series of handicap racing events that take place throughout the year, and it's open to pretty much any sail-powered craft. The Challenge involve events throughout the whole year, running large regattas at a variety of inland and open water venues. Competing sailors will earn ranking points from each event they compete in, with the top 100 sailors invited to a winner-takes-all-final at Rutland Water in September, a celebration to bring together the best British sailors of the year.
Who came up with the idea?
The idea comes from the organisers of the Seldén SailJuice Winter Series which has been one of the big success stories of the past decade. Organised by Andy Rice of SailJuice.com (sailing journalist and marketer) and Simon Lovesey of SailRacer (event organiser and GPS tracking expert) has completed its 10th season.