For many years top sailing events such as the America's Cup, the Olympics and Volvo Ocean Race have made considerable use of GPS tracking. Now GPS tracking is available and affordable for all sailing events, and no longer just the preserve of elite championships.
SailRacer has been at the forefront of GPS tracking for sailing events since 2010, covering several thousand races from club events to major world championships and Olympic classes international regattas.
Recent events have included the Techno Worlds in Garda, where over 500 trackers were deployed, making this one of the World's largest simultaneous use of GPS trackers for a sailing event. Other major events recently covered by SailRacer include the Etchells Worlds at Cowes, which saw very close competition from many of the World's top sailors.
We are seeing more classes and events adopting tracking and benefitting from the technology, each event generating many thousands of views and online spectators. This year (2018) SailRacer will be tracking international championships for many of the key classes : IRC Yachts, Etchells, Laser, Nacra 15, RSX, Techno and Contenders, with National Championships for : Enterprise, D-Zero, SB20 and N18s, plus several long distance races, yachting and major handicap events. In the past we have also tracked international championships for 29er, 420, 470, C Class Cats, Dragons , ISAF Team Worlds, World Match Racing Tour, and several Olympic classes regattas such as Sail for Gold and Semaine Olympic Weeks.
Small battery powered units are attached to each boat or sailor. Using GPS these accurately record each boat's position, typically every 5 seconds and then data uploaded to a cloud server via a mobile data connection using the onboard SIM card.
The GPS positional data is then stored in a vast online database, tagged by boat and race. The tracker player provides a Bird's Eye view of the race, allowing online spectators to follow the action in near real time, via mobile phones, tablets and computers.
For sailing clubs with a big screen and internet connection, spectators can follow all the race action from the comfort of the bar, which can all help increase takings for food and drinks.
Even for quite small events, SailRacer has seen online audiences in the thousands, with high profile Championships into six figures. This all helps build added value to the event and increase revenues, including sponsorship.
For the sailors there is the chance to watch the races in replay mode, learning where the race was won and lost, a great coaching tool.
A real time leaderboard, automatically updated to display the latest positions, combined with the SailRacer scoring system that re-scores the overall regatta on a mark by mark basis, brings reals excitement to the event with live scoring. SailRacer progressive analysis shows how the series was won and lost.
SailRacer leg by leg analysis, allows speeds, times, tacking angles and VMGs to be compared, helping sailors to understand their strengths and weakness around the racecourse, and learn from their competitors.
Safety Case Study For race organisers, the SailRacer GPS tracking system provides a vital safety aid, acting as a virtual eye in the sky, monitoring the position of all boats. For the Round Hayling Island Race, several competitors lost their way in thick fog, using SailRacer trackers attached to the sailors and safety ribs, the organisers were able to quickly locate and rescue those in trouble. This use of trackers also allows the safety fleet to be optimised with the potential of fuel savings as ribs can be positioned nearer the fleet.
For race management, the SailRacer tracking system can help with course setting and adjustment.
Contact Simon Lovesey to discuss how SailRacer can support your event
Benefits of GPS tracking
Generates interest and engagement in the events/class through spectators watching the racing both live and in replay - potential to increase participation and promotion of club, event and class etc. Sponsorship and advertising opportunities. Also increased bar sales by showing the racing on a big screen.
Provides a coaching tool allowing sailors to analyse their performance across all legs - add value to competitors and help improve their enjoyment of the racing.
Provides a safety function in poor visibility and/or if boats get separated from the fleet - opportunities for fuel saving through optimisation of safety fleet. For many events we have seen GPS tracking providing a valuable safety tool, even for keel boats eg at Etchells Worlds where a holed boat was quickly found and safely escorted ashore before sinking. Helps with race management - potential to improve race quality and save time with areas like course laying. SailRacer can also proive an electronic tally system based around NFC tags on each GPS tracker. Round Hayling article
Jury functionality - potential to improve decision making with additional evidence from GPS tracking
Scoring - quicker result calculations and answering scoring queries. Results can be fed into other scoring software such as SailWave.
SailRacer GPS Tracking App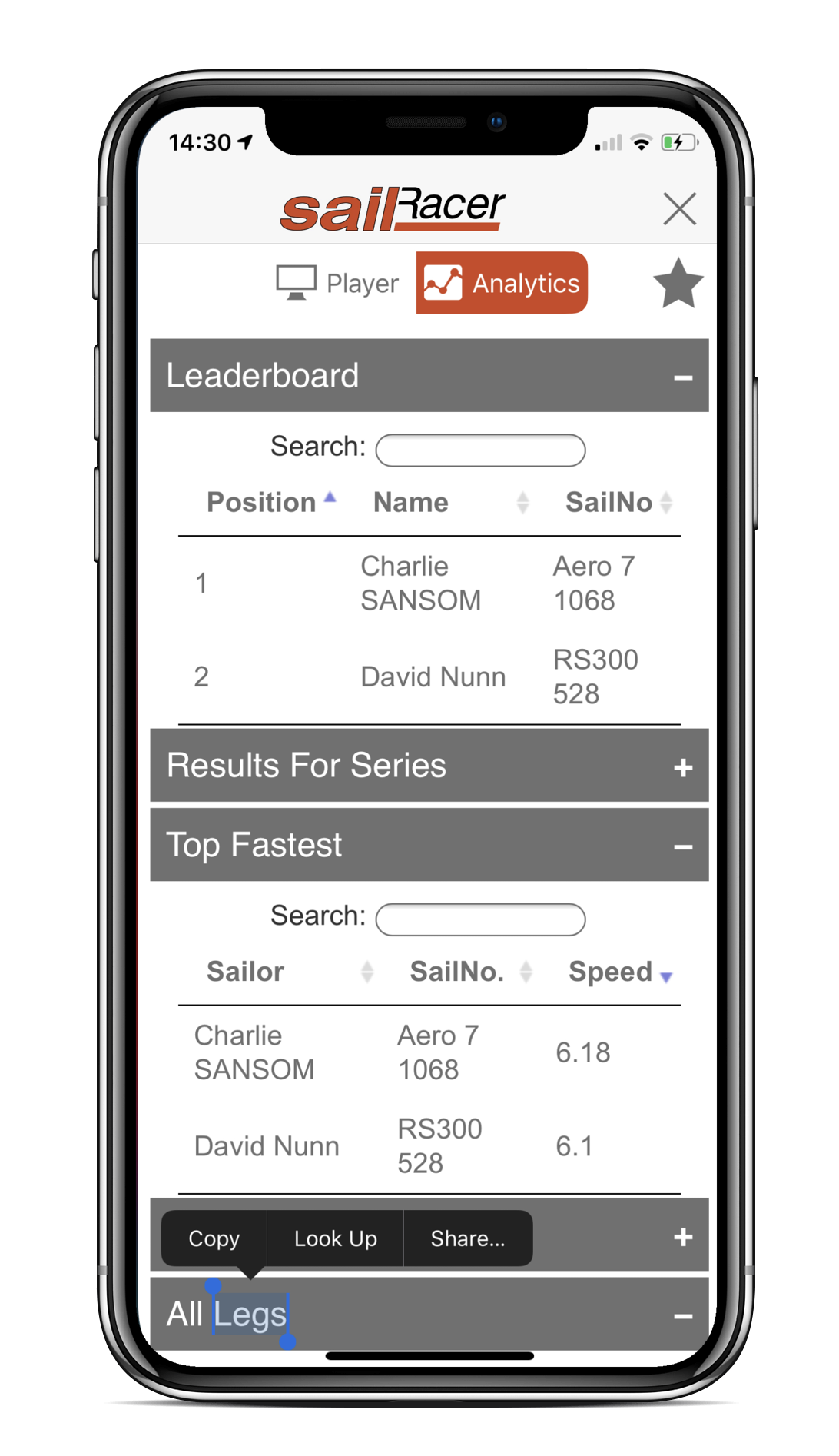 Great for Simple Racing
Contact : James.Ripley@SailRacer.co.uk
TackTracker

SailRacer is pleased to be working with TackTracker one of the world's leading suppliers of GPS tracking systems for Sailing. SailRacer can provide complete solutions, including all the hardware, software, SIM cards and assistance with delivering tracking at your event (remotely or on-site). TackTracker is an Official Supplier to the Australian Sailing Team , Australia's national representative team for sailing, featuring some of the leading Olympic class sailors and coaches in the world today. SailRacer has also developed a number of bespoke solutions around the TackTracker platform, including SailRacer's innovative electronic tally system which is making a big difference to safety and helping reduce rib costs through more efficient usage.
International Presence
SailRacer has successfully provided tracking services for sailing events in 16 countries, across 3 continents. These events have been delivered by SailRacer staff or third parties working in cooperation with Head Office. Many of the operations can be conducted remotely.
Dynamic Handicapping
More SailRacer is developing a system that uses the wealth of data GPS tracking generates to make handicap racing fairer across all conditions.