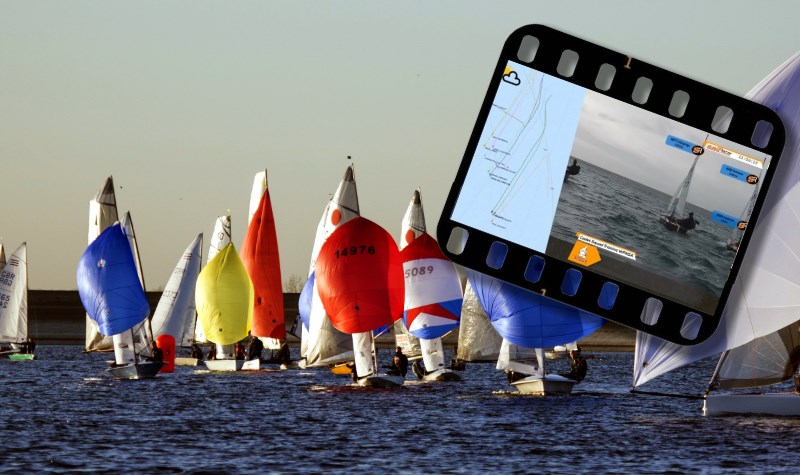 This year the SailRacer team has been busy, with an on-site presence at 25 major sailing events including GPS tracking of 57 classes, online commentary, social media integration, photography, results analysis etc.
The SailRacer coverage has generated many hundreds of thousands of online spectators. With our streaming partners SportsXstream we provided conference coverage for the 13th International Sailing Summit held in Amsterdam. If you
are interested in SailRacer covering your event please contact Brenda Hoult.
2014 also saw the inaguaral Garmin Summer Series with over 300 entries.
| | | | | |
| --- | --- | --- | --- | --- |
| Event Name | Date | Location | Link/Logo | Description |
| Oxford Blue | January 2014 | Oxford Sailing Club | | Held at Oxford Sailing Club, this event is part of last year's edition of the SailJuice Winter Series. |
| Cadet Class Squad Training | | | | View the video for the squad training here. |
| Tiger Trophy Pursuit | February 2014 | Rutland Sailing Club | | The Tiger Trophy is the last event of the GJW Direct SailJuice Winter Series 2013/14 |
| RSX Coaching | March 2014 | Rutland Sailing Club | Tracking Link | Coaching for an RS:X squad was held in March and tracked by SailRacer. |
| Cadet Qualifier 1 | April 2014 | Datchet Water Sailing Club | | The Alf Simmonds Memorial Trophy is the first event in the World Team Selector series and was held at Datchet Water Sailing Club on the 5th and 6th of April. |
| Techno Euros 2014 | | Trentino | | The official European Championships for the Techno 293 windsurfing class were held fromt he 20th to the 27th of April on Lake Garda. |
| Cadet Qualifier 2 | May 2014 | WPNSA | | The Clemenson Nautilus Trophy is the second event in the World Team Selector Series and will be held at the Weymouth and Portland National Sailing Academy and was held on the 3rd and 4th of May. |
| Carsington Summer Trophy | | Carsington Sailing Club | | The first event of the Garmin Summer Series was held and tracked at Carsinton Sailing Club in May 2014. |
| Cadet Qualifier 3 | | Stone Sailing Club | | The Peter Scott Trophy is the third event in the World Team Selector Series and was held at Stone Sailing Club on the 24th and the 25th of May. |
| Garmin Summer Series II - Datchet | June 2014 | Datchet Water Sailing Club | | The Datchet Summer Flyer is the second event in the 2014 edition of the Garmin Summer Series. |
| Sail For Gold | | WPNSA | | Sail for Gold Regatta is the UK's only Olympic classes regatta and took place at the Weymouth and Portland National Sailing Academy in Dorset. |
| Blaze Nationals | | Warsash Sailing Club | | The official National Championships of the Blaze class was held at Warsash Sailing Club in June. |
| Match Cup | | Royal Southern Yacht Club | Tracking Link | The Match Cup for the J/80 Class was held at Royal Southern Yacht Club last summer. |
| Optimist Open | | Warsash Sailing Club | Tracking Link | SailRacer tracked an open event for the Optimist class in June at Warsash Sailing Club. |
| Lord Birkett | July 2014 | Ullswater Sailing Club | | The summer edition of the Lord Birkett was the fourth event in the 2014 edition of the Garmin Summer Series, and was tracked by SailRacer. |
| Techno Worlds | | Brest, France | | Attracting entries from all over the world, the Techno 293 World Championship was held in Brest, France, during the summer. |
| Cowes Week | August 2014 | Cowes, Isle Of Wight | | SailRacer focused on tracking three classes at the Aberdeen Asset Management Cowes Week, The Redwing, Victory & VX One. |
| British Moth Nationals | | Pitsford Reservoir | Tracking Link | The official National Championships for the British Moth class was held at Pitsford Reservoir in August 2014. |
| GJW Direct Sailfest | | Calshot Sailing Club | | A Festival of Sail over the August Bank Holiday, racing at Calshot. GPS tracking and live commentary for spectators, shore side displays, activities such as rock climbing and velodrome cycling - something for everyone. |
| Battle Of The Classes | | Southampton | | The Battle Of The Classes Pursuit Race featured at the Southampton Boat Show on the 21st of September 2014. This year was also part of the Guinness World record attempt Bart's Bash. Hosted by Royal Corinthian YC and SWAC with live GPS Tracking and online commentary from SailRacer. |
| A-Class Nationals | | Rutland Sailing Club | | The official Nationals of the A-Class was held in September 2014 at Rutland Sailing Club and featured GPS tracking, accommodation as well as social events. |
| Datchet Flyer | | Datchet Water Sailing Club | | The Datchet Flyer is the second event in the latest edition of the GJW Direct Sailjuice Winter Series and is the first event of the series to be tracked. |